Crocodile Dream: What Meanings?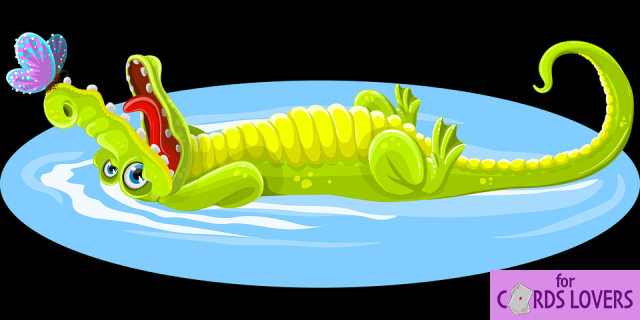 A crocodile is a very dangerous animal that inspires fear and is considered unpredictable and frightening. Within the crocodile family, there are 25 species, almost all of which can be classified into the three major groups of true crocodiles, alligators (including caimans), and gavials. But what does it mean to dream of a crocodile?
In general, the crocodile in the dream represents the lower instincts and danger, just as it can embody a strength of the dreamer in the event that he confronts or tames the crocodile. In general, it is a good sign if one can chase or even kill a crocodile in a dream, which reflects this strength.
CROCODILE DREAM: THE MOST FREQUENT DREAMS
Many dreams are made about crocodiles, here are the most frequent with for each their meaning.
DREAMING OF HARMLESS CROCODILES
DREAM OF SEEING A CROCODILE
A dream event in which the dreamer sees a crocodile can be interpreted positively. Because behind such a dream situation there is symbolically hidden that a certain person in the dreamer's entourage wishes to know him more. Is there new love looming here?
DREAMING OF CROCODILE IN WATER
If crocodiles can be recognized in water in a dream, this is a break with too great a degree of instinct in the real world. However, it will not be easy for the affected person to let go of their old behavior.
DREAMING OF BABY CROCODILE
A baby crocodile may look cute, but it can still be quite dangerous. As sweet as the baby animal is in the dream, it still has a warning function. It is intended to alert the sleeper to dangers and difficulties. This dream is a warning against bad people who sometimes show a friendly face. You have to think carefully about who you can really trust.
DREAM OF STROKING THE CROCODILE
Those who dream of stroking a crocodile tend to underestimate the dangers of life. It is possible that some people want to betray the dreamer, but he does not notice this at the conscious level. Therefore, he must be careful and check his surroundings.
DREAMING OF A CROCODILE AS A PET
If we have a crocodile pet in our dreams, we may currently have a negative attitude towards different aspects of our life. In this bad phase, we long for care and comfort, but also for tenderness and contact, symbolized by the crocodile as a pet.
DREAMING OF FEEDING THE CROCODILE
If one dreams of feeding a crocodile, nothing is normal from a real-world perspective. After all, dangerous animals can get their own food on their own. As a rule, dream interpretation positively interprets feeding the crocodile: This event in dreams represents the sense of responsibility.
DREAMING OF CROCODILE HEAD
If a crocodile head appears in the dream world, the dreaming person is in inner conflict. It is quite possible that reasonable thought and action cannot be used as usual at the moment due to an increased emergence of one's emotions.
DREAMING OF CROCODILE TEETH
In the interpretation of this dream, teeth (see the article dedicated to dreams of teeth) often represent a subconscious sexual aspect of the dreamer. If someone sees the teeth of a crocodile in a dream, it gives him the idea that an instinctive sexuality is hidden in his subconscious, which he prefers not to show openly.
DREAM OF STROKING A CROCODILE
Petting a crocodile is a reflection of your courage in the face of danger. If the crocodile allows itself to be petted, you are able to control it. But if the dream goes wrong, then your subconscious is telling you to be more careful.
CROCODILE VIANDE REVIEW
You feel that others can read your thoughts and you have insecurities there. Introspection is at the heart of this dream.
DREAMING OF HARMLESS CROCODILE
You have the capacity to remain in control of yourself in the face of your primary aspect and the danger does not reach you thanks to your attitude in real life.
DREAM OF EATING CROCODILE
You need to feed your primal instincts.
DREAMING OF DEAD CROCODILE
All that the crocodile represents, the dangers and primary instincts, are totally outside your life and you do not experience them on a daily basis. Dreaming of death is often positive in dreams.

DREAMING OF COLORED CROCODILE
GREEN CROCODILE RÊVER
You are financially successful, green is linked to prosperity in dreams and you are enjoying it wisely.
DREAMING OF YELLOW CROCODILE
There is an element of discomfort about certain changes in your life, it is a warning not to be overwhelmed by insecurities and anxiety. Your subconscious is telling you to move on.
DREAMING OF BLUE CROCODILE
A blue crocodile is auspicious, like the majority of dreams with blue, and reveals your potential to take advantage of opportunities.
DREAMING OF BLACK CROCODILE
A black crocodile is a bad omen and reflects the suspicions of your subconscious about the real interests of certain people who are close to you, such as treason or the will to harm.
DREAMING OF WHITE CROCODILE
You are ready to open up to others, this color is that of purity and harmony.
CROCODILE NIGHTMARES
DREAMING OF CROCODILE IN CAGE
You suppress your primitive instincts and control them for now. Work on yourself will be necessary to resolve this situation in depth. Because the dream shows that you contain them but do not totally suppress them.
DREAM OF MANY CROCODILES
There are many dangers in your life. Your reaction in the dream determines how you deal with it in waking life. For example if you face them with courage, then your subconscious reflects your courage there.
DREAMING OF CROCODILE JUMPING
You feel that danger can arise at any time in your life. How you react to it determines whether the dream is positive or not. Pay attention to your emotions in the dream.
DREAMING OF BEING KILLED BY A CROCODILE
If you dreamed that the crocodile killed you, then your primal instincts totally dominate you and you must do what is necessary to master them. The dream of getting killed must always be seen in its details.
DREAMING OF BEING BIT BY A CROCODILE
If the dreamer is confronted with a crocodile biting him when he dreams, a danger is at the origin of this dream. In addition, there are many negative influences in his life, which is why it is difficult for the person to control his own emotions.
DREAMING OF BEING ATTACKED BY A CROCODILE
A crocodile attack dream embodies one thing above all: fear. Depending on the current life situation in the waking world, it can be a fear of very different things, situations, and people. Are you afraid of trouble or being betrayed by good friends?
DREAM THAT A CROCODILE EATS PEOPLE
Oh my god, a crocodile is eating someone in my dream! If we see a crocodile eating other people in a dream, this should be seen as an indication directed at us that someone from our friends or family may be struggling with negative feelings and may have need our help.
DREAM OF A CROCODILE EATING A CHILD
Anyone who sees a crocodile eating a child in a dream is very likely to be horrified, distraught, feeling helpless. The image in this dream is intended to make the sleeper realize that someone needs his support. This person most likely feels overwhelmed in his life, cannot cope with a certain situation on his own. The symbol therefore also refers to its own sense of responsibility.
DREAMING OF A CROCODILE IN THE HOUSE
Since the house in the interpretation of dreams symbolizes the state of life and soul as well as the well-being of the dreamer, it is precisely these aspects that are currently in danger when the crocodile enters the house. A loss of control over one's own instincts may have a negative effect in one's life.
DREAMING THAT A CROCODILE IS SWIMMING IN THE POOL
How awful! In the dream, there is suddenly a crocodile in the pool. Maybe in the dream situation you are already in the pool and see the dangerous animal. Such a dream of a swimming pool is actually intended to warn the sleeper: he is mentally unbalanced. This happens because he is afraid of his own emotions and sexual urges. There is an urgent need to learn how to manage this side of oneself.
DREAMING OF CROCODILES HUNTING IN THE DREAM
Crocodile hunting can be viewed from two angles in a dream. If you manage to hunt a crocodile in the dream world, this can be interpreted as a positive sign. If you are being chased by a crocodile, you are trying to escape your problems in the real world.
DREAMING OF KILLING A CROCODILE
Even though killing a crocodile can be a nightmare, it should be considered a pretty good dream symbol. Having this dream means that repressed feelings are released and at the same time it is possible to overcome the hitherto unloved characteristics and fears embodied by the crocodile. Killing in the dream world is often very positive.
GENERAL INTERPRETATION
If the dreamer can overpower the crocodile in a dream and calm it down, then this should also be evaluated positively, because figuratively the dreamer manages to face his fears and overcome them. In this case, it indicates a huge inner strength, which the dream may not yet be fully aware of.
Because the crocodile also symbolizes an instinctuality, a fight with a crocodile can also represent the problem of keeping one's instincts in check. If the dreamer comes out of the fight losing, it may indicate a state in which he has lost control of his instincts and feelings.
Being eaten by a crocodile can be interpreted as the fact that the dreaming person is eaten away in the true sense of the word by his negative feelings.
However, dreams with crocodiles are not always about fighting. A single crocodile can also simply pose a threat and tell you to be careful. Is there anyone who might want to betray me? A biting crocodile also indicates danger.
Even without a fight, one can walk on the crocodile's back in a dream. This is considered an imminent attack. However, this primarily means that the dreamer anticipates a dangerous situation for him. A lot of strength and effort is needed to master this danger.
Other possible interpretations of dreams with crocodiles:
Dominating enemies pose a threat that can only be countered with wisdom
Warning of impending difficulties
Beware of new business relationships
Risk of being betrayed by closest friends
see a crocodile: someone longs to know you
see many crocodiles: in anticipation of a surprise.
PSYCHOLOGICAL INTERPRETATION
The crocodile in the dream represents a negative symbol for inner energy and occurs in the dreams of people who may lack a positive attitude towards life.
The crocodile is also a symbol of the cruelty of the world, or it indicates neighbors who do not mean well with us and put obstacles in our way. Perhaps the dreaming person is consumed by fears of dying.
SPIRITUAL INTERPRETATION
From a spiritual perspective, the "crocodile" dream symbol represents freedom from the limitations of the world. He also symbolizes voracity and hypocrisy and is considered one of the initial chaos monsters.
In a crocodile dream, an alligator may also appear. If you perceive the armored lizard in the dream world as an alligator, this is primarily a warning against everyday enemies. The business environment in particular should be looked at more closely after such a dream.