The 8th of spades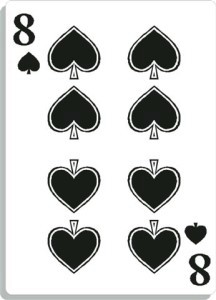 Upright: This card represents threats of illness, danger, trouble caused by malice, gossip and gossip from relationships or entourage. It also signifies afflictions, sorrows, bad news.
Reversed: The meaning is generally bad but it can change, depending on the neighbouring cards. It indicates a transformation due to an unexpected event. It also means an affair, marriage or a broken business.
If this card has to its right:
THE ACE OF CLUBS:
Poverty, misery.
THE KING OF CLUBS:
Business, missed business.
THE LADY OF CLUBS:
A young woman meditates and spreads lies about the consultant.
THE JACK OF CLUBS:
Bad companies and business.
THE TEN OF CLUBS:
Big financial loss, threat of ruin.
NINE OF CLUBS:
Sudden and unexpected illness, accident.
EIGHT OF CLUBS:
Problems, obstacles to success due to the disease.
THE SEVEN OF CLUBS:
End of illness, recovery.
THE ACE OF HEARTS:
Letter of condolence.
THE KING OF HEARTS:
Sudden and unexpected breakup in love.
THE LADY OF HEARTS:
A sudden and unexpected end to an affair.
THE JACK OF HEARTS:
The consultant will learn of a friend's illness.
THE TEN OF HEARTS:
Sentimental problems, unhappy love.
THE NINE OF HEARTS:
A sentimental problem will cause health problems.
THE EIGHT OF HEARTS:
Sorrows, heartache.
THE SEVEN OF HEARTS:
Unpredictability.
THE ACE OF DIAMONDS:
Anonymous letter.
THE KING OF DIAMONDS:
An enemy, a rival will cause difficulties, trouble.
THE LADY OF DIAMONDS:
Grief coming from a jealous woman.
THE JACK OF DIAMONDS:
A subordinate, an inferior is going to cause problems, penalties.
THE TEN OF DIAMONDS:
Travel, travel proving to be unpleasant.
NINE OF DIAMONDS:
Waste of time.
EIGHT OF DIAMONDS:
A fake, clumsy friend is going to cause trouble, trouble, trouble.
THE SEVEN OF DIAMONDS:
Meddling, gossiping, gossiping causing trouble.
ACE OF SPADES:
Annoyance, light and fleeting sentences.
THE KING OF SPADES:
Big trouble, trouble caused by a lawman.
THE LADY OF SPADES:
A woman will cause annoyance and sorrow.
THE JACK OF SPADES:
Bad company and unsavoury people will be the source of very serious problems and misfortune.
THE TEN OF SPADES:
A breakup, an abandonment will be the cause of an illness.
THE NINE OF SPADES:
Death, death from disease.
THE SEVEN OF SPADES:
One death, one death will cause great sorrow.