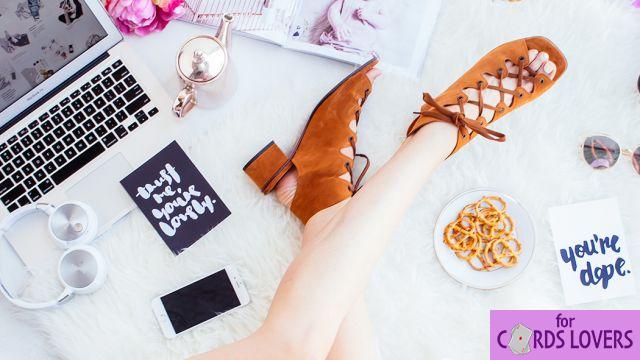 ---
Buy a new pair of shoes… Few people don't find this activity fun or even calming, on some level. Although your wallet is far from finding it as interesting as you do! A matter of starting to plan your next purchase to make room on your shelf for shoes, discover how your feet like to be dressed, based on your star sign...
Aries (March 21 to April 20)
The sports sneaker with a futuristic, even lunar look, perfectly suits your personality and the impulsive mood of your toes! So your feet will be ready to fly, any time of the day.
See this post on Instagram
#normcore #modelsoffduty #bland #personalwayofstyle #style #fashion #trend #trend2014 #bland #simple #minimalism #normcorefashion #streetstyle #simplicity #personality #plain #minimal #instafashion #antystyle #knowyourtrend #tags4likes #fw #effortless #boyish #chic #ootd #outfit #womenswear
A post shared by Normcore (@normcore_fashion) on Apr 14, 2014 at 8:04 a.m. PDT
Taurus (April 21 to May 20)
Professional? Yes you are. Coquette? You also have this personality trait. Discreet, but determined? Still! Impossible to go wrong with a stiletto heel, in a pale color.
See this post on Instagram
Neutral tones are a key color shoe that should be in every girls closet. You can use them for a formal occasion or with practical ripped denim as worn with style icon @lolariostyle
A post shared by NUDE PUMPS Co. (@thenudepump) on Sep 5, 2016 at 12:21 AM PDT
Gemini (May 21 to June 21)
The fun, yet fancy bootie is all about you! Reserved for your hours, but eager to party with others, the little black boot, preferably in suede, seems to have been designed to take care of your feet.
See this post on Instagram
Well hellooooo @off____white ankle boots (@virgilabloh, we you) Size 37, $499 #offwhite #virgilabloh #designerconsignment #pdxboutique #newarrivals #ankleboots #springstyle #shoppdx #pearldistrict #shoponline
A publication shared by Recyled Chic Boutique (@recycledchic) ​​on March 12, 2019 at 12:04 PDT
Cancer (June 22 to July 23)
Of a soft and temperate nature, you like soothing colors and materials… A beautiful boot (regardless of its height) in a bluish, turquoise or green hue, adorned with velvet, that would please you, wouldn't you?
See this post on Instagram
Blue sky - @ivyleecopenhagen☁️#ivyleecopenhagen #ivylee #boots #myivylees #thesebootsaremadeforwalking #fortheloveofshoes #fashionstore #fashion #boutique #fashionagency #styling #milkagencydk #agency #boutique #fashionshoes #musthave #new #blue #spring #heels #blueshoes #bluesky
A post shared by Milk Agency (@milkagencydk) on Mar 11, 2019 at 10:48 a.m. PDT
Leo (July 24 to August 23)
You have character and you don't hide it. After all, what do we gain by being discreet? So, you're more of the type with pretty pink high heels worn without nylons than big leather boots.
See this post on Instagram
Pink stiletto for 89,40. Available in sizes 37 and 39. Go to: http://thepinkheel.com/stilettos/125-stiletto-ante-rosa-chicle.html#.WXdtJYXtaEc #tph #thepinkheel #moda #style #fashion #fashionblogger #heels #tacones #zapatos #pink #summer #sales #picoftheday #shoes #rebajas
A post shared by The Pink Heel (@thepinkheel) on Jul 26, 2017 at 3:15 am PDT
Virgo (August 24 to September 23)
The white boot. No need to look any further. The purity of a winter landscape always enchants you and you are a person of strong values. Why complicate your life when you can make it simple?
See this post on Instagram
ANGELS White is beautiful in every wayAll white For order For order✈️ WhatsApp +90549 565 25 80 www.loieistanbul.com #loie #istanbul #whiteboots #boots #beyazbot #women #coolgirl #love
A post shared by Loie İstanbul (@loieistanbul) on Feb 27. 2019 at 3:07 PST
Libra (September 24 to October 23)
You're so the type to match the nail polish on your toes to the color of your shoes, when you have a special event! No choice: you therefore need an open-toed sandal, ideally very colorful.
See this post on Instagram
Available in all sizes!! • Contact us at Whatsapp 809-399-6222 • While STOCKS LAST! #mules #trend #freeshippingworldwide #sandals
A post shared by Chic Room RD (@chicroomrd) on Mar 5, 2019 at 8:17 AM PST
Scorpio (October 24 to November 22)
The "snake scales" look, according to you, is a master key… and you are right, at least in your case! His audacity and his imposing and seductive side go well with your personality. The snake look in boots, yes please!
See this post on Instagram
______________________ #snakeboots #trenchcoat #poleneparis #currentlywearing #overknees #boots #favoriteboots #favoriteshoes #shoegamestrong #lookbooklookbook #outfitdaily #outfitdiario
A post shared by Victoria Nasir (@torinasir) on Oct 29, 2018 at 11:17 AM PDT
Sagittarius (November 23 to December 20)
A tad lazy and impatient, you don't like knowing you're wasting time no matter what task you're doing. The sandal that slides quickly into the foot is therefore your best friend.
See this post on Instagram
Dear Winter , I'm breaking up with you. I think it's time I start seeing other seasons. Spring has cuter shoes. The "Amelia " cuffed sandal. : : #tinamariashoes #shoeluxury #springfootwear #goodbyewinter #springsandals #newshoes #cuteshoes #shoestyle #waitingforspring #flatsandals #sandals #toepostsandal #metallicshoes #leathersandals #sandalseasoniscoming #strappysandals #newseasonshoes #tuesdaythoughts #shoestory #springshoes #sandalstyle #newseasoniscoming #breakup
A publication shared by TinaMaria (@tinamariashoes) on March 12, 2019 at 4:59 PDT
Capricorn (December 21 to January 20)
You know where you are going in life! Your determination always points in a specific direction, without necessarily imposing it on others… The pointed-toe shoe, yes, it's really you!
See this post on Instagram
Any other mommas out there feel like a success and failure all within few moments of each other?? ‍♀️ On.The.Daily. Funny how small wins get all wiped out by the one thing I think I do wrong and I end up feeling shitty because I lost my cool or wasn't patient enough with my kids... I am not alone in this, right? #questioningmyparentingskills #momlife • • K, change of subject real quick —> found the EXACT flats as mine in this cool electric blue color (plus a high heel version) & linked it for you below ⤵️ • • http://liketk.it/2AjMw @liketoknow.it #liketkit #LTKshoecrush • • • • • • • • #somepopofcolor #ihavethisthingwithcolor #edgyfashion #livecolorfully #windycityblogger #everydayfashion #lovecolors #creativeentrepeneur #funstyle #funfashion #affordablefashion #iamtheeverygirl #chicagostyleblogger #streetstyled #rewardstylebloggers #colorlover #dailydoseofcolor #colormehappy #chicagoblogger #chicagofashionblogger #shoecrush #samedelman #electricblue #indigoblue #pointytoe
A post shared by Monika • Fashion • Color (@somepopofcolor) on Mar 6, 2019 at 6:14 am PST
Aquarius (January 21 to February 19)
You only have one life to live… That's what you repeat to yourself every morning, ready to devour a new day! Since you refuse to be bored, the metal boot will add even more spice to your daily life.
See this post on Instagram
Trophy shoe. The new 1461 metallic shoe is a classic style dipped in silver. Wear to win in the style stakes. Link in bio.
A post shared by Dr. Martens (@drmartensofficial) on Jul 2, 2017 at 1:51 AM PDT
Pisces (February 20 to March 20)
You are so creative that you could turn anything you touch with your fingertips into a work of art! So, your eccentric side should be reflected on your feet: go for it with a brightly patterned stiletto heel.
See this post on Instagram
We love patterns photo by @hashtaganika #ihavethisthingwithfloors #patterns #interiordesign #floored #rome
A post shared by I Have This Thing With Floors (@ihavethisthingwithfloors) on Feb 8. 2019 at 11:22 PST
Psitt: we have daily, monthly and year-round horoscopes courtesy of our astrologer Ginette Blais!
You may also like...
Discover the ideal manicure for your astrological sign!
The Next Book You Should Read Based On Your Zodiac Sign
Where should you live according to your star sign?