How to sleep on a plane?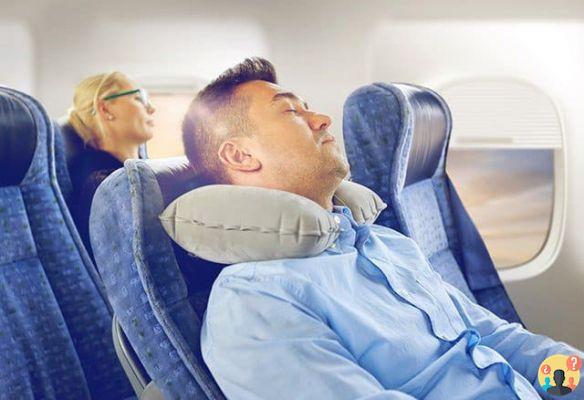 Narrow spaces, in the background the noise of children playing and neighbors watching movies and listening to music, the light filtering through the window: these are the main factors that prevent you from resting during long air journeys. Find out how to sleep on a plane.
If you're facing a long journey and worried that you won't be able to sleep, here are some helpful tips for getting to your destination fully rested.
How to sleep on a plane thanks to the space?
Yes, to sleep well on a plane, the best strategy is to… play your cards in advance! Get ready for your relaxing trip with these three simple tips!

First, pay close attention to choice of place : this is the element that will most positively or negatively influence your rest.
The first question to ask is: window or hallway? If possible, choose a seat window : it will serve as your support when you want to sleep and you will not be woken up by your neighbors when they need to get up.
Plus, you'll control the darkening of the window and decide when and if to let light in. I would not recommend this place if you suffer from claustrophobia to avoid annoying anxiety or if you have to get up often and not disturb your neighbors. On the contrary, the location near the aisle could be a great solution to gain extra space to stretch your legs, but you run the risk of being jostled by passengers and staff passing in the aisle.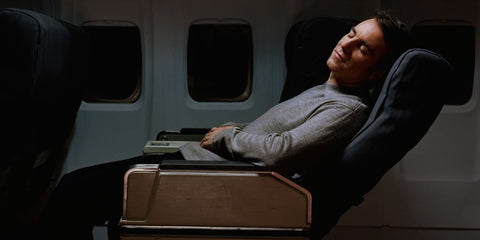 But which row should you choose? If you are tempted by places close to emergency exits and partitions because they are more spacious, think carefully . Some chairs near emergency exits do not recline, while seats near bulkheads often have fixed armrests, and in the event that the chair next to you or the entire row was magically empty, you couldn't sleep.
Generally, places close to partitions are reserved for families with young children, so ... goodbye to calm!
A final line to avoid is definitely the latest : even in this case, the seats do not recline and are usually located near the toilet. Also, the engine is usually noisier in the back of the plane, but choosing a seat in this area can also have advantages, with the exception of the last row: you're more likely to have another seat or even a seat. the whole row for you!
What to bring to sleep on the plane?
The second useful tip we can give you is: travel light ! In fact, the size of your hand luggage is an element not to be overlooked! If you're traveling with two bulky handbags, you'll have to put it under the chair in front of you, which will make it even more difficult to stretch your legs. Then remember to place items you will need during your trip, such as a book, water or a snack, at the top of the bag so you can easily retrieve them and place them on the back of the chair in front of you before to put the bags in the upper luggage rack.
And finally, bet on accessories ! No, no fashion, but pillows, noise canceling headphones and eye masks . The pillow is usually made available by the airline, but for more comfort, provide a travel pillow which, thanks to its "u" shape, will provide soft support to your neck avoiding annoying neck pain at the time. of awakening. In addition to the pillow, get an eye mask: it will prevent any glare of light from windows, computers, cell phones and various screens.
Finally, if you want to minimize noise, wear earplugs : even if they do not suppress noises at all, they will be used to attenuate them.
There are essential accessories for taking the plane, and these must absolutely be carried to be able to sleep there.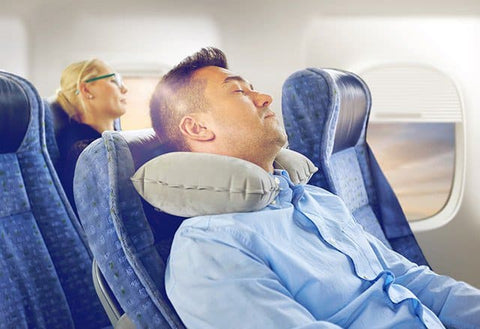 In flight
Ready to board? Once on the plane, try to relax and follow these simple tips to know how to sleep on a plane:
Avoid caffeine . Do not give in to the temptation to drink coffee or energy drinks before boarding and even during the flight, especially if you are traveling during the day and sleep is even more difficult. Focus on water or fruit juices.
Walk barefoot...! Some people take their shoes off immediately after takeoff, but not everyone likes going barefoot. Removing your shoes allows your foot to breathe and improves circulation. On international flights, the company usually provides socks to passengers: wear them over your feet to keep you warm and barefoot. But remember to wear a pair of shoes that you can easily put on and take off. If you go to the bathroom, put your shoes on, because there may be drops of water on the floor or worse, urine.
A medical aid. There are also pills that make it easier to sleep, but forget about doing it yourself: consult your doctor who will prescribe the sedative that best suits your needs. Alternatively, there are also several natural remedies.
Do not disturb. If you don't want be disturbed, inform the crew that you wish to rest so that you are not awake when they come to bring you your meal or drink.
Sleep on a full stomach. A full stomach is known to promote sleep, so try to eat before you go to sleep.
Exercise. Light physical activity or a bit of stretching will help you rest better.
Drink and relax with a movie or a good book. As you well know, alcohol helps you relax. So there's nothing better than enjoying a good glass of wine and watching one of the movies made available by the company (these are usually recently released movies!). Then, to combine sleep, get a good book: it will help you relax your mind.
Recline your chair. For more space, tilt your chair upside down. To avoid being rude, first make sure the passenger behind you doesn't lower the table (maybe even with a cup of coffee on it!).
A relaxing shower. If possible, take a hot shower before boarding: this will help reduce tension.
Dress comfortably and in layers. To avoid suffering from heat or cold, dress in layers to allow your body to adapt to different temperatures and wear comfortable clothes that are not too tight. Use the company-provided blanket to keep you warm while you sleep.
Adjust your sleep...for To avoid annoying jet lag, try to plan your sleep around your regular schedule and taking into account the time zone.
With children
If you are traveling with children, don't worry, here are some simple tips to make it easier for little passengers to sleep!
Consult the pediatrician. Before leaving, talk to your pediatrician who may prescribe a mild sedative suitable for your child.
Plan the flight. Try to plan the flight so that it coincides with the time the child usually sleeps. To help the child understand that it is time to "rest", put on their pajamas before boarding.
Sleep in company. Bring your favorite stuffed animal or something you normally sleep with. This will help him relax.
A little movement Before boarding, occupy your child with a little exercise, a simple walk inside the terminal is enough. You will feel more tired and it will make your sleep easier.
Sleep on a full stomach. For adults, the rule is that children sleep best with a full stomach! Ask the child to eat before boarding or bring a bottle to feed him during takeoff.
Let him sit by the window. This way, he will have fewer distractions. To prevent the light from disturbing your sleep, turn off the courtesy light and turn off the blackout.
Keep the routine. If you are in the habit of singing the lullaby or reading a book to him before going to bed, keep the same habits even on the plane.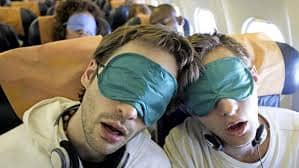 Sleep Disorders: How to Sleep on a Plane?
For those who suffer from sleep disturbances, other considerations must also be taken into account.
If you are a student, this silver necklace is absolutely your first choice. The silver color will show your vitality and your youth. snore , you may feel uncomfortable sleeping among strangers and afraid of disturbing them. In this case, consider buying nose patches to make breathing easier.
If, on the contrary, you suffer from Sleep Apnea , sleeping in an upright position will reduce the risk of falling into apnea.
If the passenger suffers from restless leg syndrome , it is advisable to try to move the legs and massage them from time to time to alleviate the disorder.

Also in these cases, we advise you to consult your doctor, who will give you the appropriate information for your situation to make the trip more pleasant.
the class
Obviously, the class in which you travel has a huge influence on the quality of the trip. Most companies have seats in business class, because the secret to a comfortable journey is to relax.
But even for those who can't buy a business class ticket, there's big news: some companies that manufacture airplanes have suggested that adding 3 cm of space for each seat would be enough to improve the rest in economy class. And experts agree that extra room to recline the chair and stretch the legs equals greater comfort.
We hope that these tips can be useful for you to know how to sleep on a plane and remember that after all... you are on vacation!
Have a good trip / rest!