When to change mattress?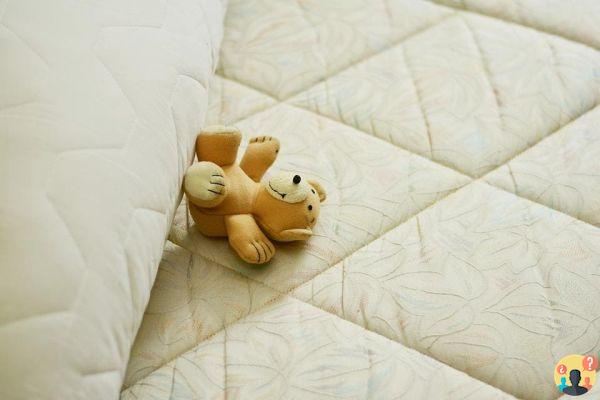 Do you remember when you bought your mattress? If you can't answer this question with certainty, it's probably time to replace it with a new one!
Knowing when to change the mattress, in fact, is not as simple as it seems: our body has a bad habit of adapting very quickly. So even if our posture isn't the best while we sleep, we often don't realize it until after a few months or even years.
Let's immediately dispel a few myths:
No, a mattress cannot last 20 or 30 years and guarantee you the same quality of rest as when you just bought it.


No, even if you paid dearly for your mattress, it is not a guarantee of longevity, it all depends on the quality of the raw materials.
So how long does a mattress last and how do you know if yours needs to be replaced? We talk about it in this article!


How long does a mattress last?
The duration of a mattress, latex, spring or water foam, depends a lot on the manufacturing technology and the materials themselves.
However, one thing is certain: even the best mattresses generally need to be replaced every 10 years, regardless of cost. Over time, each type of mattress tends to deform under the weight of your body. Also, even if you have taken great care and cleaned it regularly, bacteria, mites and dust may have accumulated in the inner layers.
The duration of the mattress therefore varies according to the type of mattress:
Spring mattress - lasts 6-8 years
Memory foam mattress - duration 8 to 10 years
Latex mattress - 8 years maximum with the right maintenance.
This last point deserves a little study. Latex is a natural material and in mattresses it is used in different percentages to obtain an elastic, comfortable and hypoallergenic structure.
It is precisely because of these characteristics, however, that it is much more delicate than other types of mattress: it must be cleaned and disinfected carefully and regularly, without using water or steam, we recommend that you clean it. ventilate periodically.
The lifespan of a latex mattress or other types on the market obviously also depends on other external physical factors.
As we have already said, in addition to the weight of the person using it, the use to which it is put must also be taken into account: for example, do you like to have breakfast in bed or snack on snacks while watching your favorite series under the covers? In this case, the probability of staining the mattress is objectively higher than for those who only use it for sleeping.
Another enemy of mattress hygiene is perspiration: those who have perspiration problems, in fact, may need to replace the mattress more frequently.


How do I know if the mattress needs to be changed?
As we have already seen at the beginning, it is not so easy to understand when to change the mattress: waking up painfully or poorly rested can be a sign that something has changed, but it can also be related to stress or particularly tiring days. .
If you want to know when it's time to change your mattress, watch out for these signs:
If you wake up with back pain for several days, see the facility. If there is sag inside, consider replacing the mattress and see an orthopedic specialist.


If you can't sleep or start to suffer from insomnia. Even this sleep disorder can be caused, among other things, by a mattress at the end of its life, and now to be changed.


If your memory foam or spring mattress is sagging in places or bloated, it's time to replace it. This is especially true in the case of people with a few extra pounds, who should carefully monitor this aspect and opt for a mattress for overweight people.


Do you see any seams or are there stains on the surface? Imagine what the situation might look like in the deepest layers! Again, better start looking for a new mattress. Wouldn't you know how to judge the many proposals on the market? At InMaterassi we have prepared a guide on how to choose the right mattress for you.
In general, we advise you to replace the mattress as soon as you start to sleep poorly, if you have difficulty falling asleep or suffer from back and neck pain: even if at first glance you do not notice any change on the surface, the internal structure could be compromised and if you continue to use it, you will do so at the expense of your health.


Why change mattress?
In summary, the durability of a mattress is not the only factor that should determine your choices. Changing mattresses means resting better and resting better means having a better life even out of bed!
Imagine sharing your dreams with 2 million other dust mites, resting on approximately 200g of organic particles (including skin, sweat, hair and dander) - these are the numbers of organic residue that hides in your mattress at the 10 year course.
If you still have doubts, we believe that this reflection is a good entry to encourage you to change your mattress!