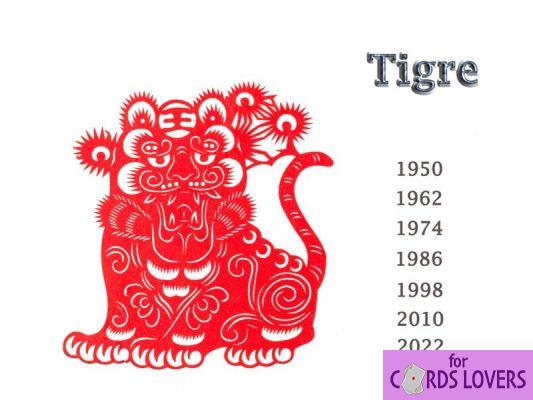 ---
The Brief History of Chinese Astrology
The Buddha, in a very distant time, would have invited several animals to pay homage to him and only 12 showed up.
First it was the Rat, the Ox (the Ox, if you prefer), the Tiger, the Hare (the Cat or the Rabbit, if you prefer), the Dragon, the Serpent, the Horse, the Goat (the Sheep, if you prefer), Monkey, Rooster, Dog and Boar (Pig, if you prefer).
The personality of the Chinese zodiac sign Tiger
Always at ease in public or on stage, the Tigre is a very good speaker. He knows how to adapt to any environment (good or bad), but don't step on his paw! His warlike nature would then flare up and you would find yourself in very bad shape.
The Tiger knows how to transmit his emotions, his knowledge or his knowledge. His physical and natural charisma opens many hearts to him, but he finds it difficult to maintain a relationship. The Tiger has an imposing reserve of love and compassion for those who gravitate in his intimate universe, while his enemies find themselves under close surveillance.
He can be jealous, tyrannical, implacable, direct and aggressive. His mind is too restless and rebellious to allow itself to be controlled and locked in a cage. His tendency to constantly seek strong emotions causes him harm. Intense, it often acts only on the blow of passion.
Discover the personality of the other Chinese zodiac signs:
Steering
Buffalo
Tigre
Lièvre
Dragon
Serpent
Goat
Horses
Monkey
Cock
Dog
Sanglier