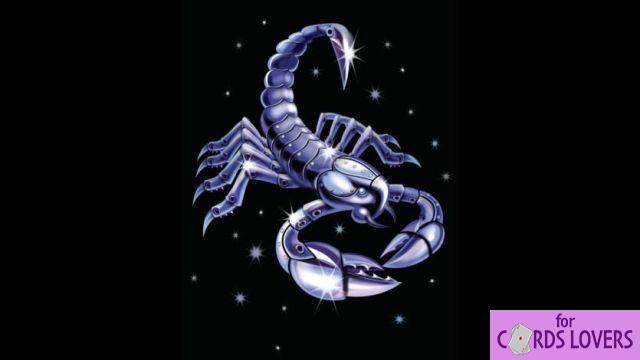 ---
From October 24 to November 22, it is the turn of the astrological sign of Scorpion to be celebrated! What best defines Scorpio natives? Discover her preferences, character traits, perfect love matches and more: here 13 things to know about Scorpio.
1. His favorite colors are: strong colors, like red, white and black. Many Scorpios do very well in yellow as well.
2. Its metals are: magnesium, iron, metal and silver.
3. Its element is: the water.
4. Its flowers are: the rhododendron, the orchid and the geranium.
5. Its ruling planets are: Mars and Pluto.
6. Her birthstones are: red garnet, black diamond and yellow topaz.
According to some American researchers, the black Diamond would be of extraterrestrial origin coming from meteorites that fell on Earth. More symbolically, the black Diamond is a powerful channeler that unites heaven and earth; it acts on the soul, the brain, the creator in oneself and makes it possible to incite, to initiate, to inspire, in short, it grants qualities of project manager. It can help Scorpio better manage its contradictions.
Le red garnet gives him the chance to find love and live happily as a couple.
La yellow topaz brings him a more balanced clairvoyance; she calms her anger and discouragement by activating her inner strength.
Read also : Crystals: everything you need to know when starting out
7. Scorpio represents the 8th house of the zodiac., the one that shelters death, inheritance, investigation in all its forms, sexuality, other people's money and the money you save by working with the sweat of your brow and your efforts.
More symbolically, this sign of the zodiac refers to the first love and the first sexual experience, to regeneration, la contradiction which makes life and death, end and eternity, alpha and omega so mysterious. This silent being, sometimes provocative, sometimes anguished by the lack of money or the fear of dying — and sometimes even of living! —, is a great sensual, a mystic in search of the truth. His love affairs are passionate and his sometimes unbridled sexuality can play nasty tricks on him. He likes to please and conquer, but when he himself is conquered, his heart has only one home base.
8. His friends are :
Taurus will offer him a nice complementarity, but they will have to combine love and business for it to work.
With Cancer, he will form a remarkably well-matched couple if the latter has the strength to sustain his sometimes black humor.
Capricorn will allow him to live joyful and pleasant moments on a daily basis, but he risks being bored in his loving company. He will give her the thrill, but their greatest achievement will be the mutual respect that will lead to a sincere friendship.
9. Her perfect love match is:
The Virgin and her sexy side and her great sensitivity will attract her like a magnet. On the other hand, she will have to give him all her attention.
Libra will really stir it up with its softness and calmer character, and that, even in the bedroom. Except that she might fear his withdrawn and uncommunicative nature.
With another Scorpion they will share the same sensuality and they will live impetuous moments of love, however, in the long run, this relationship will lack depth.
The Pisces with whom he will maintain a relationship that falls within the realm of great mystery and magic, and this, on all levels.
See this post on Instagram
A post shared by scorpiodatex (@scorpiodatex)
10 His enemies are:
With Aries they will be rivals or friends for life. No half measures!
Gemini will easily discern her sensual nature, but they will both play smart and end up not talking to each other.
Sagittarius will swear allegiance to him, but he will be loyal to him only if the competition is not open.
With Aquarius, unfortunately, the dark and too intense side of Scorpion will end up weakening it.
Read also : The perfect Halloween costume for you based on your star sign
11 What This Zodiac Sign Symbolically Represents : The Scorpion is linked to the myth of death and rebirth ; that's why this sign is scary. His tail Scorpio is on point like that of the dragon. Its birthday period is closely related to the Halloween holiday. As Scorpio is associated with the reproductive organs, it has intense sexual energy.
12 What do Mars and Pluto represent in a star chart? More specifically, the house inhabited by the constellation of Scorpion will indicate to the astrologer in which sector of his life this person will have his greatest life-death-life experiences or his most impactful, destructive and, of course, redemptive life trials. Pluto's positioning will clearly indicate the level of intensity of trials and redemption that the querent will encounter in their lifetime.
13 Its greatest weaknesses: His discouragements are phenomenal, but he can pick himself up in no time. It is sometimes to understand nothing! His logic is simple, realistic and effective: he needs money to live and he will do everything in his power not to lack it. Never! Also, he does not forgive offense and can be vengeful, mocking and destructive. The Scorpio woman is extremely bright and knows how to be determined and efficient. The Scorpio man and woman are both charismatic and dominant, and these two characteristics once again represent their contradictory nature. He is capable of the best and the worst and he must learn to overcome his inner demons.
To read also:
13 things to know about Aries
13 things to know about Taurus
13 things to know about Gemini
13 things to know about Cancer
13 things to know about Leo
13 things to know about Virgo
13 things to know about Libra
13 things to know about Sagittarius
13 things to know about Capricorn
13 things to know about Aquarius
13 things to know about Pisces
Consult all the contents of Ginette Blais, our astrologer.