You guessed it: it's the return of Liane Astro-Cupidon! Recently, I shared with you the affinities and the love potential of the different astrological signs. A good thing done. Now let me take you a little bit further: the first date.
I hear you, it's not easy a first date. It's often uncomfortable since you don't really know the bottom of the other person's thoughts and in all honesty, it's very difficult to be 100% yourself. Believe me, the decorum and the general atmosphere are quite decisive for the rest of things.
so here's what to do AND what not to do on a first date according to the different astrological signs, so that your meeting is a success.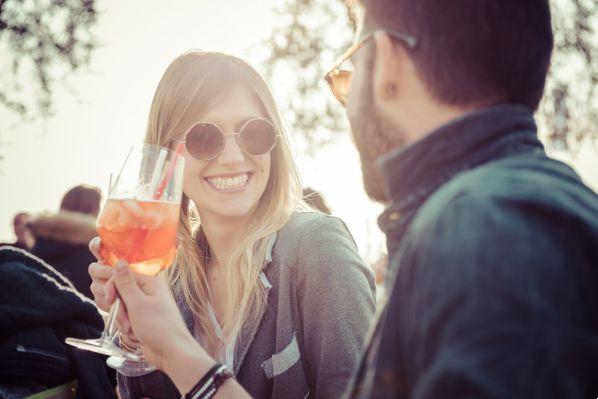 massimofusaro/Shutterstock
PS: You should first stalk your date's birthday before the meet-up in question, unless you're comfortable asking him the question directly. But hey, it's 2021, it's become commonplace! You can sleep soundly.
So, let's go into dating advice!
Aries
Si tu dates ce signe ...
Avoid early signs of affection and the quest for empathy.
Give him latitude, Aries like to take the first steps.
Challenge him/her. But do not prevent yourself from having different opinions, Aries appreciate the exchanges.
Taurus
Si tu dates ce signe ...
Show modesty and confidence.
Don't put pressure on anything; there is nothing better for them than an easy going atmosphere...
Create mystery.
Gemini
Si tu dates ce signe ...
Stimulate the conversation with questions about him/her such as his/her interests, his passions, him in general... as long as they are meaningful and relevant!
Be spontaneous and create an aura of adventure.
Focus on the little touches, they will make all the difference!
Cancer
Si tu dates ce signe ...
Stand up and talk about your interests; Cancers almost never take the lead.
Give them the time and space they need to figure out if they're interested or not.
Be attentive to his preferences, to the small details that your date shares with you.
Leo
Si tu dates ce signe ...
Be honest.
Don't show jealousy. If your date is interested in you, she will show it to you.
Surprise him/her. Leos like to be in the action, far from the romantic candlelight dinner.
Virgin
Si tu dates ce signe ...
Don't let yourself be put off by his attitude; Virgos are simply undemonstrative.
Does not organize an outing that requires a lot of involvement on his part.
Surprise him/her with your initiative.
Balance
Si tu dates ce signe ...
Promotes experience.
Don't try to impress her with your holdings.
Show perseverance and patience with him/her.
Scorpion
Si tu dates ce signe ...
Do not rush anything; find your rhythm and follow it.
Don't focus on him/her.
Take the lead if you're interested, since he/she won't. Scorpios will still let you know by being demonstrative.
Sagittarius
Si tu dates ce signe ...
Be spontaneous and straightforward, Sagittarians are up for just about anything!
Create mystery.
Be open-minded and approachable.
Capricorn
Si tu dates ce signe ...
Does not impose a romantic setting on the date; favors an activity that could lend itself to something else practical.
Give him choices, suggestions.
Stimulates his curiosity.
Verseau
Si tu dates ce signe ...
Don't pre-plan, Aquarians really live in the moment.
Don't plan anything routine, be ready to take him/her out of their daily routine.
Give him the opportunity to take the initiative and show his interest in you.
Fish
Si tu dates ce signe ...
Leave room for desire, seduction.
Show originality, Pisces appreciates unusual personalities.
Be honest and own your feelings.
Don't forget: there is no perfect relationship, the important thing is your willingness to adapt, to be empathetic and to walk in front of the other.
With that, good date girls!