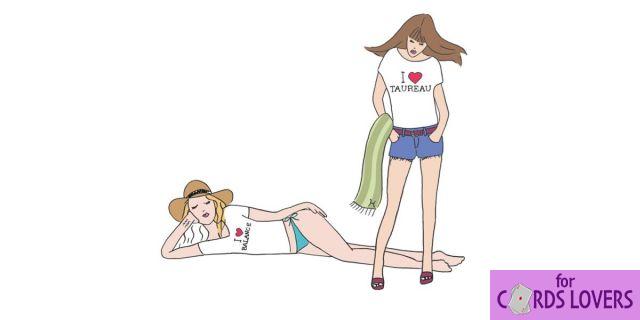 ---
A new elected official has caught your eye and you are trying to please her, but don't really know how to go about it? Or do you want to rekindle the flame with your partner? See how to seduce a woman according to her zodiac sign!
How to Seduce an Aries Woman
Ask her about the worldly or artistic interests that make her vibrate. Let her know you WANT her, but don't bust her out on the first few dates. The Aries woman is known to be a formidable "lover", her demands should not scare you.
How to Seduce a Taurus Woman
Sensual, the Taurus woman adores perfumes, flowers and little sought-after treats. A good one-on-one meal will really seduce her. However, avoid abandoning her or focusing your attention elsewhere during your outings, she would take this as abandonment.
How to Seduce a Gemini Woman
Seduce her with sincere words (she feels everything, don't cheat), fair and precise. More cerebral than sensory, the Gemini woman remains deeply sensitive to feelings. Stand out in his eyes by wearing elegant clothes that will not lack originality.
How to Seduce a Cancer Woman
Soft and protective, approach her with delicacy. Gourmet, the Cancer woman loves sophisticated or simple and convivial dishes. Very feminine, charming and laughing, if you have a good sense of humor, you will win her heart. Compliment her often, it's important!
How to Seduce a Leo Woman
The Leo woman likes to impose herself, but don't run away from her determined temperament. You would then risk missing out on a rare pearl! Sentimental to the very end of her claws, she has a great sense of aesthetics. So, wear classic clothes with a very chic touch!
How to Seduce a Virgo Woman
The Virgo woman is discreet, sensitive and devoted. Show her that she can always count on you, reassure her, support her and you will win her heart. Very shy, you will have to take the first steps towards her, but the return of the boomerang will throw you to the ground!
In video: Flirting according to the zodiac
How to Seduce a Libra Woman
Elegant, sweet and sexy, the Libra woman is made to love and be loved. If you want to be her companion, you will have to reassure her of her power to please YOU. She hates vulgarity… so be warned, be gallant and act classy.
How to Seduce a Scorpio Woman
The Scorpio woman carries an aura of mystery. Its disturbing beauty is legendary as much as the passions it arouses. Possessive, sensitive and endowed with deep intuition, connect with her at eye level. Plunge your gaze into hers and you will seduce her!
How to Seduce a Sagittarius Woman
A beautiful amazon who is both independent and has a natural talent for sports or outdoor pursuits. She also loves to travel… exoticism. To seduce a Sagittarius woman, find an activity that will disorient her, that will not be trivial.
How to Seduce a Capricorn Woman
The Capricorn woman is suspicious by nature, so avoid conversations that are too light and superficial. His great sense of reality will appear quite rigid to you, but do not doubt his sensual ardour. To win her heart, encourage her and take an interest in her interests.
How to Seduce an Aquarius Woman
To win her heart, be friendly, funny and, above all, take an interest in her: her ideas, her creativity, her work and her friends. Never force an Aquarius woman to do an activity or outing that she doesn't like, check if everything is OK with her.
How to Seduce a Pisces Woman
The Pisces woman is very intuitive, feminine, gentle and endowed with a powerful imagination and will not be seduced so easily. She dreams of love and she loves music, dancing and shows. If you want to seduce her, just open your heart to her!