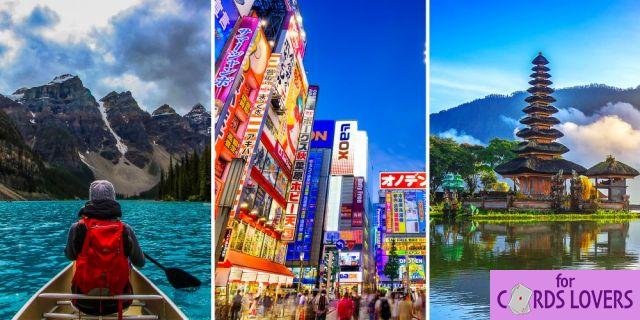 ---
We sometimes imagine ourselves lifting the sails and going to live in a country at the other end of the world. But what place on the planet would be ideal for you to start a new life?
Do you believe that your destiny is on a beach in the South, or rather in a very urban city in Asia? Or maybe you should move to a campaign on a distant continent, or even travel around the world?
See where you should live according to your astrological sign!
1. Aries (March 21 to April 20)
It is often said of Aries that he rushes through life... And as a matter of fact, you can't stand still. All that energy in you has to be vented in activities, otherwise you might get bored. This is why theSouth Africa is the perfect place for you! You can explore national parks to observe wildlife in its wild state, then go for a short ride on a surfboard and in the afternoon you will want to go for a scuba diving tour! Life is an adventure, and you know how to make the most of it when you are given a big enough playground.
2. Taurus (April 21 to May 20)
Fulfilling yourself is one of your priorities and you are very keen on your independence. That's why Sweden is a perfect country for you! You will be able to enjoy the wide open spaces exploring the countless islands that form this country, while making the most of the cultural life offered by all the museums of Stockholm. Your inner Viking will then feel alive, while enjoying the Scandinavian way of life based on rest and well-being. Perfect for the down to earth being you know you are, dear Taurus!
3. Gemini (May 21 to June 21)
Your complex personality will be fascinated by Japanese paradoxes. You will drink in thousand-year-old traditions and Buddhist wisdom while experiencing thrills in the ultra-modern city that is Tokyo. You are fascinated by oddities and you will not be bored for a single second in the land of the rising sun. In the same day, you will live both in the past and in a hyper modern future. Your dual personality will adapt wonderfully well. Even if you don't really speak Japanese, your Gemini smile will have the locals cracking up!
4. Cancer (June 22 to July 23)
Your sentimentality will finally feel at home when you set foot in Italy, especially in Venice. As you know, Water is the element of Cancer, and it does you the greatest good. So, crisscrossing the flooded streets of this romantic city will certainly change you from the potholes that currently fill your daily life. You will be inspired by the history that is read on the buildings that will surround you, and you will enjoy being serenaded by the passionate inhabitants of this land.
5. Leo (July 24 to August 23)
With your Hollywood star charisma and your charisma to spare, alone Los Angeles is up to your ambitions! There, you can pamper yourself by drinking green smoothies while running by the ocean every morning. And since you've always dreamed of becoming a star, you'll soon realize that you were one from the start! And while you may need to get a job in the restaurant industry while you wait for your big movie debut, your self-confidence will pay off big time with the generous tips you'll be left with. Plus, everyone knows Leo knows how to party, and you'll be in the right place to celebrate big with people as special as you!
6. Virgo (August 24 to September 23)
You are a brilliant person and your enormous thirst for curiosity and knowledge will lead you to London, where you'll dive headfirst into a Sherlock Holmes novel if you haven't already decided to spend the whole day at the British Museum! You appreciate English rhythm and good table manners, so you'll be completely in your element. It is likely to be different if you encounter a group of British tourists in another country as they will be much louder when leaving their mother country. So make sure you never leave England, or even Buckingham Palace...
Read also: Where to travel according to your astrological sign?
7. Libra (September 24 to October 23)
Your sociability precedes you and that is why your happiness will be at its height in a vibrant city like Barcelona where you can show off all your Libra enthusiasm. You will have the whole evening to hang out on the terraces eating tapas in the company of friends and even strangers. Nothing is easier than initiating a conversation with strangers in a city made up of architecture as spectacular as it is disconcerting. All you have to do is learn Catalan so that you can talk to everyone who crosses your path...
8. Scorpio (October 24 to November 22)
Scorpio will be thriving and in their element in the city of decay, Las Vegas! He is fearless and the desert air gives him even more self-confidence than normal. He fears neither the mafia, nor compulsive gamblers, nor sexy dancers. On the contrary, the dark side of Vegas will charm him and he will spend a good part of his time seeing major shows without ever getting tired. He will be king and have the best seats in town simply because of his boldness that makes him a real winner. Let's not forget that being Scorpio is known for his burning passion!
9. Sagittarius (November 23 to December 20)
Sagittarius is the great traveler of the Zodiac, and he will be fulfilled by taking root in a cosmopolitan city like Berlin. There, things are happening and it's artistically inspiring in addition to being a historically rich place. You like to drink, laugh and eat, and Germany will make you happy. In addition, it will be easy to travel across Europe without problem during the weekends in order to fill his inner wanderlust. Because it's not just a city or a country that he needs, but an entire continent!
10. Capricorn (November 23 to December 20)
This nature lover will be in his element in the spectacular landscapes ofIceland. The volcanic aspect of this northern place will seek its down to earth side. Summer or winter, a ton of activities will be offered to him to explore the splendor as far as the eye can see. Sparsely populated, this place will suit you perfectly to have holy peace and create a void around you because we know how much Capricorn likes to philosophize at times.
11. Aquarius (January 21 to February 19)
Aquarius is a great humanitarian, he denounces injustices and has a big heart for others, however, he is also a loner who needs quiet moments... What could be better than Costa Rica to satisfy his desire for discovery, his desire for solitude and the opportunity to travel across South America in order to help and collaborate with various communities in need. The lush jungle of this country will amaze the Aquarius who will know how to find his gang to go on a hike!
12. Pisces (February 20 to March 20)
A lover of arts and masterpieces, Pisces will be like a fish in water Vienna in Austria. Your playful side will appreciate this adventure worthy of Empress Sissi, with classical music concerts that will keep you waltzing until the wee hours of the morning. You feel a strong desire to escape which will finally be fulfilled by changing continents. You will have the impression of belonging to another century, which, admit it, is a desire that lives secretly in you all year long!
You will also like :
Who are the 5 most loyal zodiac signs?
Love compatibility according to astrology: which planets to analyze to understand your relationship?
These 4 Zodiac Signs Will Surely Break Your Heart