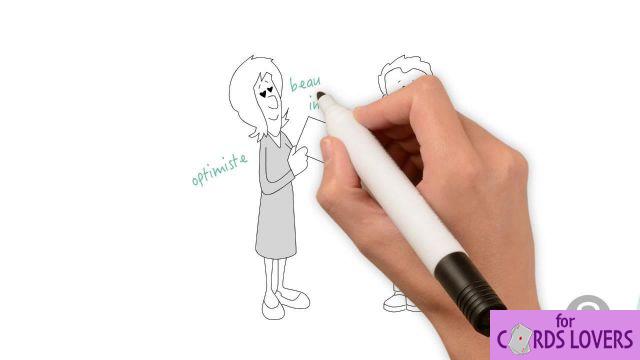 ---
From September 24 to October 23, it is the turn of the astrological sign of the Balance to be celebrated! What best defines the natives of Libra? Discover her preferences, character traits, perfect love matches and more: here 13 things to know about Libra.
1. Her favorite colors are: the great classics! — beige, white and black — different shades of lilac or fuchsia pink. Shades ranging from pale gray to charcoal. Libra loves traditional, yet timeless shades.

2. Its metals are: titanium, copper and chromium.
3. Its element is: l'Air.
4. Its flowers are: the hydrangea (the hydrangea in all its inflorescences), the orchid and the rose.
5. Its ruling planet is: Venus.
6. Her birthstones are: jade, pink and royal (yellow) topaz, white opal and chrysolite (peridot).
Le jade is a symbol of love and it allows the elevation of social status.
When Libra wears a topaze rose, it increases the possibility of finding love in addition to arming oneself with great protection.
La royal topaz, meanwhile, activates one's life energy and attracts pure luck and public success.
La chrysolite chases away her melancholy and protects her against negative energies.
The main virtues ofwhite opal are to protect against disease and to see into the future.
7. Balance and justice are the inherent needs of Libra! The Libras generally have a fiery temper. They show themselves to be zealous and enthusiastic if a professional, artistic, business or political project, idea, concept or plan of action really interests them. Libra will devote time and energy to seeing it through, and with jealous care. They can walk from one extreme to another, from positive to negative, in record time and without warning! Libra is charming and has an immense need for harmony, of balance, it is its great quality and the message which it transmits to the others. Courteous and temperate, she even tends to forget herself as she wants the people around her to feel listened to and taken into account. However, this moral sense can sometimes make her indecisive, although this sign is endowed with great intelligence and a need to think (it's an Air sign!). Finally, she is an excellent mediator, she is often complimented for her style of dress and the elegance of her interior decoration.
Read also: Love, friendship, work and roommates: the best compatibilities between astro signs
8. His friends are...
Aries: their affinities will complement each other, but this relationship is more likely to remain friendly and professional.
The Virgin will allow him to exchange a lot and they will share hours and hours of pure friendly joys.
With another Libra friendship will reign, but their mutual eroticism will be exacerbated and love will lose its place.
Capricorn will offer him a beautiful friendship. They will sketch together beautiful projects.
The sensitivity of Pisces will join theirs and they will live extraordinary experiences. Two great sensibilities thus reunited will remove consistency from the relationship and they will leave each other.
9. Her perfect love matches are...
The Gemini with whom they will experience unforgettable moments together and the power of attraction will be great.
With a Cancer, love will be fierce and they will both cherish a need for intense romance.
The Leo with his lively and well embodied intelligence will please him to the highest degree and they will live together a beautiful and great love story. Unless the Leo proves to be too dominant, in which case they would each regain their freedom.
With Sagittarius he will maintain a blessed relationship, but the latter will have to learn to dominate his sometimes casual nature.
Aquarius will offer him a lasting and pleasant relationship to live on a daily basis..
10. Signs Libra may have trouble getting along with are...
Taurus will be a possible ally in private life or at work, except that their tendency towards "habits" and their stubbornness could spoil the sauce.
Scorpio will exert a strong attraction on Libra, but their deeply secretive and critical nature may seriously insecure them and make them lose confidence...
Also Read: What Does Your Ascendant Say About You?
11. What this zodiac sign symbolically represents: The goddess Venus in her two most powerful forms - goddess of love and war. The Mesopotamians called it Ishtar or sometimes Eshtar and it would be of Semitic origin then, in the Neo-Assyrian period, we find it under the name of Issar. The Egyptians saw in the sign of the balance the "Ta Akhet": "the sunrise" and it represents more symbolically the "mediator" between the sky (masculine energy) and the earth (feminine energy).
12. How to please a Libra person? Elegance! Whether you want to capture the attention of a Libra for a flirtation or at work, you will have to be polite, temperate and take care of the first impression! On the other hand, Libra if she likes beautiful things and good manners, she also loves the game of seduction that can be built between two people who get to know each other. So if you want to have a romantic relationship with her, pique her curiosity with subtlety, put her in the eye and make her want to conquer you!
13 Its greatest weakness: His ambivalences, his indecisions, which are triggered whenshe is afraid of displeasing. He or she will then prefer to lie rather than to launch a truth that could upset his interlocutor, his better half, his friends, his parents or his children. This is why the sign of the balance suffers as much tension within his romantic, friendly and family relationships. Her hesitations are accentuated when she is afraid of making a mistake, of making the wrong choice. We can therefore sometimes reproach him for changing his mind quickly, become cold very quickly and pungent, or behaving too much like "devil's advocate"... In short, her need for harmony sometimes turns against her.
Recommended for you:
13 things to know about Aries
13 things to know about Taurus
13 things to know about Gemini
13 things to know about Cancer
13 things to know about Leo
13 things to know about Virgo
13 things to know about Libra
13 things to know about Scorpio
13 things to know about Sagittarius
13 things to know about Capricorn
13 things to know about Aquarius
13 things to know about Pisces
Consult all the contents of Ginette Blais, astrologer