THEtarot universe is mysterious and inspiring in itself… And behind this fascinating world hides an artist, kept in the shadows for many years, who wants to be one of the great inspirations of the most popular tarot deck in the world. Pamela Colman Smith passed away 69 years ago, but her art is still very much alive! Discover this exceptional woman who put her personal touch to Waite Smith tarot deck.
Tarot lovers and faithful followers certainly follow the modern-day witch Vanessa DL, in order to learn more about this incredible and mystical universe. Well, Vanessa herself uses the Waite-Smith tarot deck for her studies on the subject and her readings (notably for our Between the Cards video series)! It only intrigues us more to become acquainted with the great lady behind the illustrations of these 78 tarot cards…
The birth of an extraordinary artist
Pamela Colman Smith was born on February 16, 1878 near London. Her mother is Jamaican and her father is American. It thus inherits, from its birth, a beautiful cultural heritage. Pamela's family also decides to leave the United Kingdom, when the girl is 11 years old, to go and settle in Jamaica. It is at this place on the globe that she discovers an unlimited fascination for the occult world.
A few years later, Pamela moved to the United States, this time precisely to New York, to study art in Brooklyn. At the age of 19, Pamela exhibited her works for the very first time, canvases made in watercolor, in a New York art gallery. Her talent quickly attracted attention and she was called upon to illustrate various literary works, notably Jamaican tales. Wishing to "vibrate" with art with her whole being, Pamela then turned to the performing arts. She is, at the same time, a theater actress, a costume designer and even a manager. Pamela is without a doubt a very very very bright star! She is known, by many, under the artist name "Pixie".
A significant meeting
In 1901, then aged 23, the artist received quite an honor: that of joining The Hermetic Order of the Golden Dawn, an English secret society. It was there that she met Arthur Edward Waite, an American poet and occultist. Eight years later, the two are still in contact. So when Arthur Edward Waite was looking for someone to illustrate a new tarot deck, he turned to the indisputable talents of Pamela. The artist makes 78 illustrations for each of the deck's cards, but, unfortunately, his participation in this work of divinatory tarot is not given due recognition... The deck bears the name of Rider-Waite and, it would seem, Pamela would have received only a meager salary for her extraordinary work.
Pamela Colman Smith will also be remembered as a feminist activist because, the same year the tarot deck was released – therefore in 1909 – she joined the Suffragette movement, thus putting her artistic talent at the service of the fight for the women's right to vote. During the following years, she was also part of a political and feminist theatrical troupe.
A star goes out...
During her life, Pamela did not marry and she had no children either. But, she is an extremely accomplished and fulfilled woman, no one dares to say the opposite!
He is credited with romantic relationships with a few women, some of whom appear bisexual or queer. Although it was not a well-known or widespread word at the time, Pamela would have been queer herself, according to observers and members of her entourage.
It was on September 18, 1951, in the United Kingdom, that Pamela died, at the age of 73, following a heart condition.
Fortunately, in 2009, to mark the centenary of the conception of the Rider-Waite divinatory tarot deck, Pamela finally receives the recognition she deserves and tarot followers can now use the Waite-Smith deck (the name of the publisher Rider and Son thus taking the edge).
Pamela Colman Smith: what an inspiring and significant lady for her time… and ours!
Phew! If this article made you want to put a little more tarot in your life, why not get yourself a tarot-inspired item like:
The Vintage 3-Part Tapestry - Urban Outfitters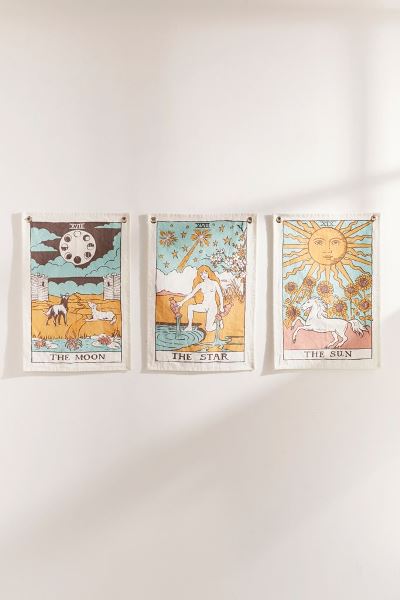 urbanoutfitters.com
Then, if you want to express both the esoteric and funny side of your person, let loose!
Price: $24 online only on the Urban Outfitters website

Tapestry for wine lovers - Urban Outfitters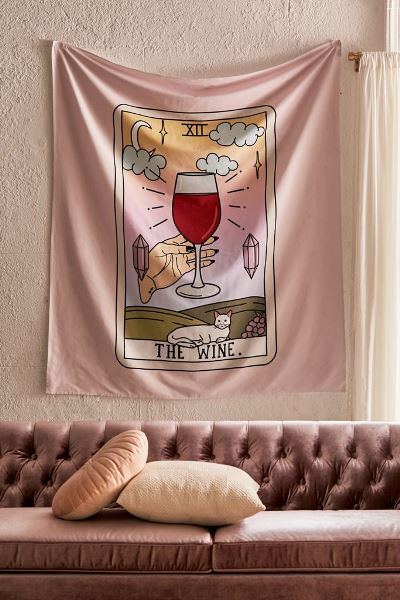 Deny Designs
Price: $58 online only on the Urban Outfitters website

Tapestry for Coffee Addicts - Urban Outfitters
Deny Designs
Price: $59 online only on the Urban Outfitters website

(sources: enchantedlivingmagazine.com and urbanoutfitters.com)