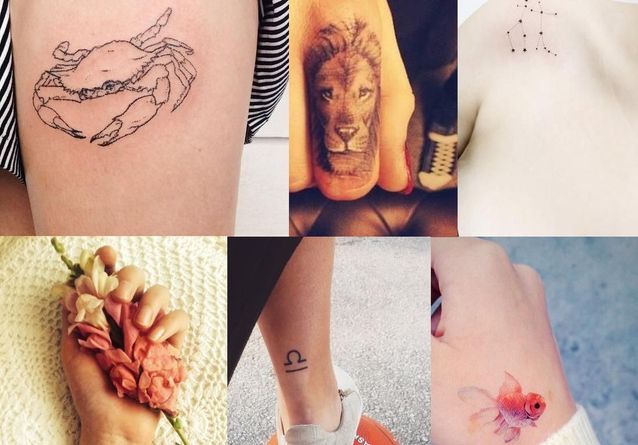 ---
The tattoos are not for everyone, but we must admit that more and more people are showing off through the ink on their skin! If you're looking for inspiration for your first or next tattoo, the stars have some suggestions so that you find the best concept for you.
1. Aries
Your natural fire deserves to be represented by dynamic symbols, which signify movement. Don't hesitate to be inspired by this sun that constantly shines in your heart!
A post shared by javier (@javierstmz) on Dec. 1 at 2017:15 PM PST
2. Taurus
What you love most is taking it easy on yourself! It's about enjoying the finer things in life, and your body knows it! Whether it's your little guilty pleasures or your touch of sensuality, there is a perfect tattoo for you, just take a look inside to find out which one!
A publication shared by devil. (@lalunarossa_) Aug 5, 2017 at 2:59 am PDT
A post shared by Holy Noir (@holynoirtattoo) on Dec. 6 at 2017:16 PM PST
3. Gemini
With everything going on in your brain and all the stories you love to tell your audience, you definitely need a tattoo that shows your strength for cogitation and communication! Pay homage to the writer in you with a beautiful literary concept, or get two tattoos that talk to each other, like your 2 Gemini.
A post shared by Alex Buchner (@alex_buchner) on Nov 29, 2017 at 11:53am PST
A post shared by Les Plus Beaux Tatouages ​​(@beautatouages) on Dec. 7 at 2017:2 am PST
4. Cancer
Your great sensitivity and your aura of mystery and uncertainty are the traits that set you apart from other signs. Why not assume yourself completely by expressing the magic that lives in you with a splendid sketch of Harry Potter? Or find a mystical symbol that is dear to you, with a touch of color to show the breadth of your palette of emotions!
A post shared by Meu Mundo Poético (@meumundopoetico) on Dec. 6 at 2017:1 a.m. PST
A post shared by Lovers Tattoo (@only_tattooed) on Dec. 3 at 2017:18 p.m. PST
5. Leo
You bite into life and you seek to surpass yourself every day. Your sporting spirit must therefore be expressed on your next tattoo. You are proud of your accomplishments, and you have the sacred fire. You should show it to everyone on your next marathon or your next mountain expedition!
A post shared by Hudson Ferreira (@hudsonferreiraskull) on Nov 28, 2017 at 10:26am PST
A post shared by SthlmInk Tattoo Studio (@stockholminktattoo) on Nov 20, 2017 at 3:20 am PST
6. Virgin
Your analytical mind is always on a survey! What would we do without your critical sense? Celebrate your insight with artwork that matches your talents and the puzzles that dwell within you.
A post shared by Sasha Unisex (@sashaunisex) on Aug 6, 2015 at 8:18am PDT
A post shared by Winston The Whale (@winstonthewhale) on Aug 17, 2017 at 16:33pm PDT
7. Balance
Good chic, good style, but never flat! This is the phrase that best represents you. So don't go get a skull tattoo that says I Love Mom. Instead, look for a discreet and minimalist design that will express what turns you on the most in life, that is to say, to be creative and mysterious.
A post shared by Flav Ink (@flav_ink) on Sep 5, 2017 at 11:45am PDT
A post shared by PIN Tattoo Gallery (@pintattoogallery) on Dec. 6 at 2017:3 a.m. PST
8. Scorpion
Your mind is on, and you question everything around you. You love shining the light on the truth, so why not take the concept literally and draw inspiration from all sources of light for your next tattoo?
A post shared by G Borean tattooeraka:bebo (@gborean) on Aug 11, 2017 at 17:06 PM PDT
A post shared by Joanne Baker (@milky_tattoodles) on Dec. 1 at 2017:1 a.m. PST
9. Sagittarius
Your heart and mind are filled with magic, and you live to be amazed! What goes up does not always come down to earth, according to you! Admit it, deep down you're a unicorn and you should be shouting it from the rooftops.
A post shared by Nikko Mr Nikko (@nikkosaurusrextattoos) on Aug 30, 2016 at 10:02am PDT
10 Capricorn
You like to be in control and you can be uncompromising. The obsessive compulsive in you will be lightened with a symmetrical pattern. Paradoxically, you have to choose either a very minimalist concept or, on the contrary, go big! Remember this when you make an appointment with the tattoo artist!
A post shared by Baben Veda (@babenveda) on Mar 17, 2017 at 3:05am PDT
A post shared by RANGSIT TATTOO STUDIO (@rangsit_tattoo_studio) on Dec. 1 at 2017:7am PST
11 Verseau
You are unique and colorful, and your tattoos should reflect that. Your originality and your passion must be the basis of your inspiration. Whether it's illustrating the characters that turn you on or works of art a little too much according to your mother-in-law, you must remain yourself.
A post shared by 타투이스트 김세윤 / Seyoon Gim (@sey8n) on Jun 26, 2016 at 20:00 PM PDT
A post shared by Lovers Tattoo (@only_tattooed) on Dec. 5 at 2017:16 p.m. PST
12 Fish
Your soul is rich, discreet and deep. There is even a little dark side that lives in you! Avoid overly dramatic or colorful tattoos if you want to be true to yourself. Assume this romantico-gothic and misty side in you!
A post shared by Lovers Tattoo (@only_tattooed) on Dec. 5 at 2017:16 p.m. PST
Une publication partagée par Konstantin Murashov (@konstantin_k.ts) le 4 Dec. 2017-20h34 PST