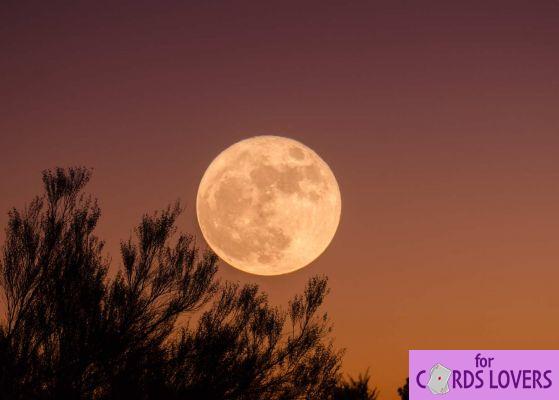 ---
On May 26, the full moon will not be trivial since it is the Super Flower Moon Thu will light up the sky during the night from Tuesday to Wednesday!
But that's not all! There will also be a total lunar eclipse on May 26, which will ensure that the moon will be red... It's been 6 years since this breathtaking jumpsuit arrived!
The full moon of May 2021 will indeed be more apparent and its size will seem much larger. That's why, on the night of May 26, we invite you to look up at the sky!
What is a Super Moon?
A Super Moon occurs when our moon is at "perigee," which means it is at the point in its orbit closest to Earth.
At this moment, la lunar distance, which is the average distance between the center of the Earth and the center of the Moon, is about 356 kilometers. Conversely, when our natural satellite is at apogee, it is about 410 kilometers away.
Read also : Does the full moon really have "magical powers" over our lives?
The Super Flower Moon: the brightest of the year
May's Super Moon has been named the "Super Flower Moon" by First Nations who have associated it with the blooming of wildflowers during that month. A great opportunity to celebrate the nature around us.
The 26 May 2021, the moon will appear 14% bigger and 30% brighter than usual, so don't hesitate to admire it at sunset!
To make sure you don't miss a thing, keep this full moon calendar in your favourites!
L'lunar eclipse as for will be visible in the middle of the night from New Zealand, Australia, Hawaii and the Pacific Islands, mainly the west coast of North America and that of South America.
Recommended for you:
Better understand the return of Saturn (or the famous crisis of the thirties)
Crystals: everything you need to know when starting out
The art of manifesting: asking the universe what you want, does it work?