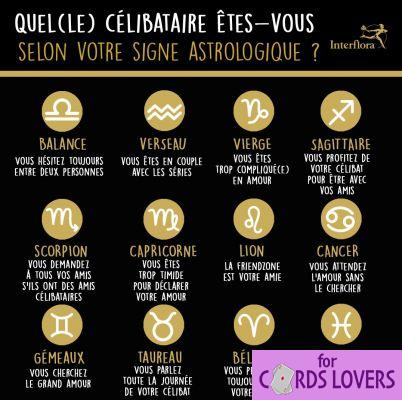 ---
Does the solo life appear to you as a source of boredom, joy or adventures? Discover it type of bachelor that you are according to your astrological sign...
1. Aries - Baby cool
Attached to your freedom, celibacy does not displease you… and, in any case, you are never alone for long!
Always on the lookout for new projects, let's say you have no trouble meeting people.
2. Taurus - What wisdom!
In life, you like to take your time, and in love too! After a few experiments, you now approach the couple relationship wisely and do not commit without thinking.
After all, your goal, single or not, remains the same: to enjoy life, while respecting yourself.
3. Gemini - Yeah… but no.
The heart of Gemini is difficult to win, because for them, it is better to be alone than to lack passion.
Independent, he doesn't need others to be happy, so unless you bring him exactly what he wants and even better still, being single suits him very well!
4. Cancer - It comes and goes
Cancer alternates between celibacy and life as a couple. He lives his stories fully and when they end, he takes the time he needs to refocus on himself.
For him, celibacy is synonymous with freedom, beautiful encounters and introspection; in short, he knows how to let go!
5. Leo - In search of his phoenix
The Leo knows how to appreciate celibacy, but his goal remains to find a life partner... up to it!
The Leo is not satisfied with one-night stands, what he wants is to live together, but not with anyone! That's why he manages to have a choice, as a seasoned seducer...
6. Virgin - Too anxious
Either Virgo is afraid of getting into a relationship (which is what she would like), or she is afraid of being alone and prefers to be alone, even if she is not really happy.
In short, a small problem of trust to be resolved, regardless of the status.
7. Balance - Love always Love
Libra lives, in a way, for love.
When she is single, she dreams of the ideal partner and love with a capital A, and when she is in a relationship, it takes up a large part of her life. In other words, we can say that he was born for love!
8. Scorpion - The disillusioned (and/or hardened bachelor)
Both idealistic and disillusioned, Scorpio does not (or no longer) seek love; it is love that will have to find it!
He therefore finds himself most often alone, with his cynicism.
love according to astrology
Sexual compatibility: which sign are you most compatible with in bed?
The 4 Zodiac Signs That Will Definitely Break Your Heart
How to seduce a woman according to her astrological sign
How to seduce a man according to his astrological sign?
9. Sagittarius - Come what may!
Eager to find a lover with whom he will experience a great love, Sagittarius, although passionate, lets things go.
He will also accept his single status… while waiting to be conquered (which could take time)!
10 Capricorn - A mask of indifference
Beneath his pessimistic air often hides a great wounded romantic.
He will thus tend to take refuge behind a sulky mask while he hopes deep down to find his soul mate - who will allow him to fully blossom.
11 Verseau - All or nothing
Attached to their independence and of a rather suspicious nature, Aquarius dreams of a being with whom they can fully blossom.
Even if he is seductive and likes to be charmed, if he feels that it is not the "right one", or that he cannot completely trust him, he will return to his celibacy and move on to the next call, without worrying. pray.
12 Fish - Haunted by his demons
Always rehashing things from the past, he sometimes finds it difficult to recover from his failures and to (re)start a meaningful relationship, even if the person opposite corresponds to what he is looking for... too bad, but it is so!
And then, do you recognize yourself?