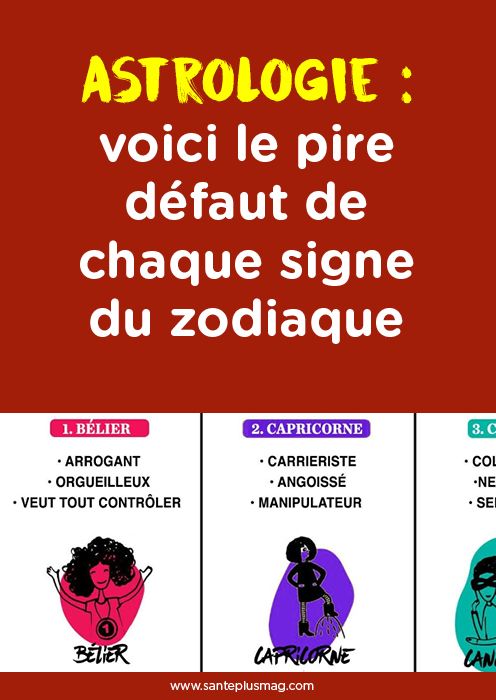 ---
Ah! Love! Not always easy, even less so when faced with worst fault of his boyfriend or his girlfriend. Speaking of nasty flaws, here's what could be the your partner's worst flaw according to their astrological sign.
Aries
He gets angry a little quickly, but, BUT, calms down quickly too.
PS Oh and he might not always say it out loud, but deep down he thinks he's right and you're WRONG.
via GIPHY
Taurus
Stubborn like a jackass? Nah, like a Taurus!
And beware of the sensitive hearts, he can sometimes lack tact (but he will call it "candor", you can always try to debate it... if you have a lot of time in front of you).
via GIPHY
Gemini
An irresistible charm, certainly... but somewhat "superficial" and inconstant, a bit like... OSS 117?
via GIPHY
Cancer
Likely goes! It looks strong like that, but just scratch a little to discover this great sensitivity.
via GIPHY
Leo
As a good king of the jungle, he wants to reign... and doesn't like to lose, of course (what kind of king, likes to lose? Pff).
via GIPHY
Virgin
Pragmatic, thoughtful, yes, but spontaneous? Not too much, no.
And good luck if you wait for him to give in to his impulses (or he's been thinking about it for 6 months and calculating everything in his head).
via GIPHY
love according to the zodiac
Balance
"Doing nothing" is one of his favorite activities.
Take the lead in making a decision, otherwise it could be quite tedious...
via GIPHY
Scorpion
Hot ahead! Character, that, it does not lack. Passion is fine, but expect to weather a few storms. If you go looking for trouble you'll find it!
via GIPHY
Sagittarius
Sagittarius, dreamy, social, friendly, but sometimes… how to say, a little "in every way" (or at least, the direction dictated by his heart, which his reason certainly ignores).
In short, we sometimes want to do this to him (see below), but we don't want to "damage" his beautiful energy.
via GIPHY
Capricorn
No need to make that face. Not always jojo capricorn, and sometimes a bit heavy...
via GIPHY
Verseau
The worst of Aquarius' flaw? It's probably when he becomes distant, and even cold, like we know him, and then we don't know him anymore, all of a sudden, without warning.
via GIPHY
Fish
Cool, very cool, but sometimes too cool?
Now, it remains to be seen if his lack of firmness and seriousness comes from the fact that he is too moody or that he lacks self-confidence...
via GIPHY
And then, does your partner have this nasty flaw?
via GIPHY