Beyond being a divinatory support, the tarot is above all a powerful tool for taking care of yourself, reveals to us Vanessa DL in his book L'art du tarot published on April 20. Indeed, the tarot and astrology expert tells us to what extent a tarot deck does not dictate a life, but is a work filled with images, messages and archetypes that rather suggests and leads us to reflect on our life.
A tarot reading is therefore not "magical" if the person who has chosen to use it does not decide to work with it actively! It is a tool of spirituality that deserves to be nurtured, which sometimes takes time to be tamed, but which carries with it a lot of wisdom if we go beyond the belief that the tarot will give us an answer to a problem, period. final.
In any case, this is the conclusion that I was able to draw from my little experience with the tarot. Here is 3 things I learned from reading Vanessa DL's book and practicing tarot for a few years.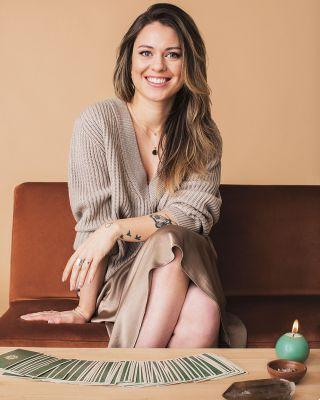 1. The tarot leads us to philosophize and to know ourselves better
Take the time to observe the images of the tarot cards. As a visual arts lover, I love to immerse myself in the artistic universe that each print offers me and to welcome what the drawings arouse in me. And that's part of the tarot experience, by the way! It's not just the meaning that counts (and this can vary for different reasons), but also our feelings about the blades. My tarot deck is super kitsch, but I still love it since the colors are very bright and the characters seem straight out of a medieval dream! Choose a tarot deck that speaks to you, that makes you want to take the time to observe the cards.
Vanessa DL suggests not drawing the cards every day, especially if you're just starting out, but rather doing it weekly, just to soak up the lessons of the card(s) and deepen our knowledge of them.
The mystical arts expert also reminds us that "intuition is our internal compass". So use your inner world to make sense of it all.