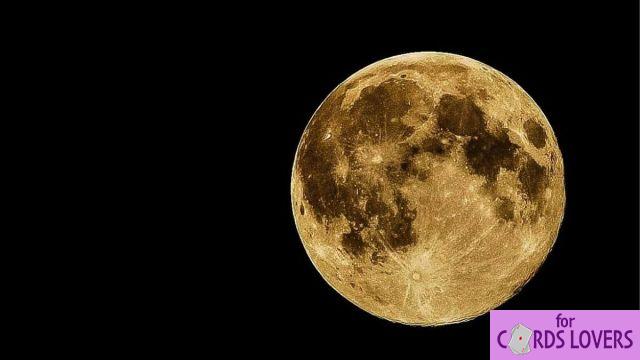 ---
Romantic at heart, do you like watching the starry sky, scrolling through a perfect romantic scenario in your head? We bet that this daydreaming moment is even better on a night when the moon is full. Well, keep an eye on the calendar of the next full moons in Quebec because, surprise: if you are one of these 4 astrological signs, love could be at the rendezvous...
If you are single, the year 2020 could have some very nice love surprises in the bank for you… Especially if you are among the lucky natives of these 4 astrological signs who could be pricked by Cupid's arrow, during a full moon. , over the next few months.
1. Aries (March 21 to April 20)
Apparently, when the Moon is full, the Aries woman feels everything to the thousandth power. Well, we may be exaggerating a little, but the stars indicate that she is then inclined to let herself be guided more by her emotions... Unconsciously, perhaps, she wants to see what is available to her on the market. celibacy, whether it's going for a drink with girlfriends or window shopping on dating apps!
2. Gemini (May 21 to June 21)
It is known: the Gemini woman is a great communicator. As a result, she is constantly trying to expand her circle of acquaintances. If she keeps her eyes and mind open during a full moon period, she could just meet a very interesting person... Note that this lunar thunderbolt could just as well take place because of a new connection on Facebook or Instagram, connection suggested by mutual friends.
3. Libra (September 24 to October 23)
If there's one thing the Libra woman knows, it's that she has the right to be selective and that goes especially when it comes to love! The single life suits her for a while, but on a full moon she longs to meet someone to share her life with. Never mind: her expectations are high, because she knows what she wants and does not want from a partner. She is ready for a serious relationship and a full moon could be favorable to her!
4. Sagittarius (November 23 to December 22)
Love. Love. Love. The Sagittarius woman is unable to think of anything else when the Moon is full! In search of tenderness and passion, she absolutely wants to spend time in good company... Good news: a full moon seems to indicate that romance will be there for her! Even under the hypnotizing effect of love, she will be able to see more clearly in a relationship that may not lead anywhere, in order to offer her heart elsewhere.
As it is sometimes said that life is in the know, if you are one of these 4 astrological signs, put your skepticism aside and open the door to love a little!
Speaking of the moon and the full moon, let yourself be won over by curiosity by discovering what your lunar ascendant has in store for you, for 2020...
Psitt: we have daily, monthly and year-round horoscopes courtesy of our astrologer Ginette Blais!
(source : bustle.com)