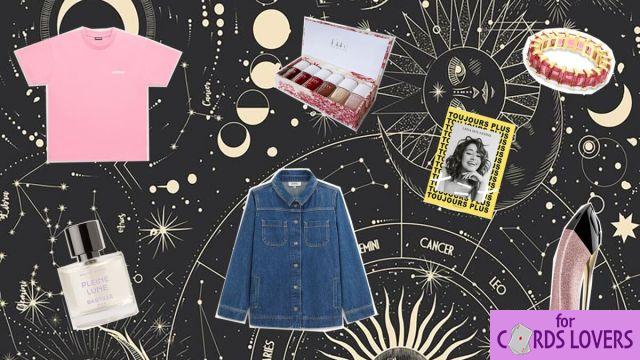 ---
Have you started your Christmas shopping? Maybe even your fir is already erected in your living room and you have started slipping a few gifts under him! But if you really want to find the rare pearl for your loved ones this year, know that you can trust them. astrological sign, question of avoiding emptying your wallet for nothing…
Aries (March 21 to April 20)
Give him a present related to his favorite hobby. Moreover, Aries is constantly discovering a growing interest in physical activity and travel. Workout clothes or a nice suitcase are good choices.
Taurus (April 21 to May 20)
Taurus is a big sophisticate, so he has a penchant for beautiful things like a sparkly piece of jewelry or a new canvas to hang in his living room. Nostalgic, the vinyl of his favorite album could also please him...
Gemini (May 21 to June 21)
We sometimes have the impression that Gemini are old souls… They appreciate the small pleasures of life, such as reading or the cinema. Your shopping will therefore be quite simple: find him two or three good novels and he will be happy!
Cancer (June 22 to July 23)
Cancer is known to be sentimental. Not at all materialistic, he prefers small attentions to overpriced gifts. So, offer him an activity that you can share with him, like a wine tasting class.
Leo (July 24 to August 23)
Creative, Leo attaches great importance to the aesthetic aspect of everything. His interest in art is also very present so, depending on your budget, theater tickets or a camera will do the trick!
Virgo (August 24 to September 23)
Virgo doesn't like to rack their brains with gifts, and they don't want their loved ones to either! Opt for something useful: a watch or a backpack, if a trip is on his agenda for the next year.
Libra (September 24 to October 23)
Avant-garde, the Libra likes to be on the lookout for everything that is trendy. To give a Libra a gift, rummage through their wardrobe, memorize the size of their clothes, then ask what's trending in a store!
Scorpio (October 24 to November 22)
The watchword with Scorpio: don't wait until the last minute to buy him a present! This one must be thoughtful and very personal… A precious stone or a book on occultism could satisfy its mysterious side.
Sagittarius (November 23 to December 20)
Sagittarius is adventurous. He likes to be surprised, so you could organize a scavenger hunt to lead him to his present! This could be linked to an outdoor activity, for example snowshoeing.
Capricorn (December 21 to January 20)
Take out your cash! Without pranks, Capricorn tends to be capricious and, subconsciously, luxury attracts their attention. A designer handbag, a pretty chain or an old edition of his favorite book: that should charm him!
Aquarius (January 21 to February 19)
A little geek, Aquarius is a fan of cutting-edge gadgets. So, state-of-the-art headphones might appeal to him. An unassuming groupie, Aquarius loves the stars too, so buy them the scent of a star!
Pisces (February 20 to March 20)
Whimsical, dreamy and sensitive, Pisces are always moved when you give them a gift! Since they appreciate comfort and routine, a good idea would be to give them pajamas or a pair of slippers.
And then, do you have a little more inspiration to spoil your loved ones, thanks to their astrological sign? If you're looking for a gift for a particular friend, there's no shortage of ideas!
Psitt: we have daily, monthly and year-round horoscopes courtesy of our astrologer Ginette Blais!
You may also like...
2 minutes to understand where Christmas comes from
What Kind Of Sex Partner Are You According To Your Zodiac Sign
The tuque you need according to your astro sign